Following the success of the 1st edition, I'm happy to announce the 2nd edition of Experience Matters, the event that highlights new synergies between Design and Marketing.
---
Experience Matters – AI Pattern
The Digital World has changed forever.
What do users think? Are they scared or aware?
When & Where
June, 28th 2018
9:00 to 12:30 – Politecnico di Milano – Via Candiani 72
Room F.lli Castiglioni, Building B1, 3⁰ floor
---
This time we'll focus on the impact of Artificial Intelligence on everyday services, showing the results of a survey conducted on 1,000 Italian heavy shoppers.
Guest speakers:
Tickets are free and limited. Please join the event here:
http://experiencematters.it/#ticket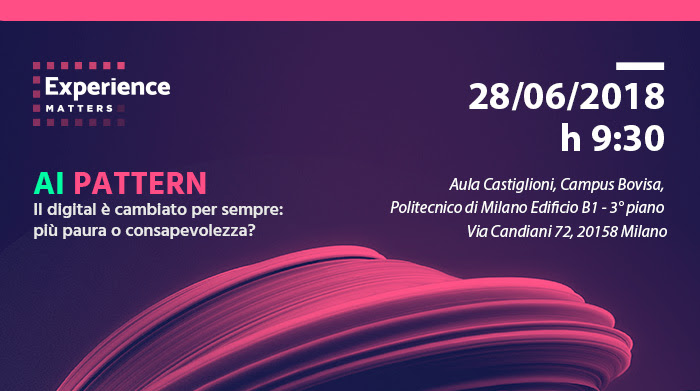 The event is organized by:
POLI.design
Personalive
Great Pixel
With the patronage of:
Scuola del Design
Dipartimento di Design
Fondazione Giannino Bassetti
In collaboration with:
Osservatorio Artificial Intelligence